The Story of Tenju Sake
Home > Happenings > Cheers with Sake > Tenju
The Pioneer of Sake Brewing with Flower Yeast • Tenju
What is the first thing that comes to your mind when you hear the words 'Akita Prefecture'? Is it Akita Inu? Or Akita Bijin? Situated in northeastern Japan, Akita Prefecture is the home of Akita Inu and is famous for its rice farming and sake brewing industries. Two-thirds of the breweries in Akita have been around for a century, of which Ohi's family Tenju Shuzo is a significant player in the industry and a pioneer in brewing sakes with flower yeast.
The Birth of Tenju Sake from Akita Secret of Brewing Flower Yeast Formation Sake Recommendation
President – the Ohi Family as Guardian of the Brand
Running a sake brewery requires teamwork, but leading the brand to grow and succeed is definitely the most important duty of the president. Most breweries in Japan are family-owned and passed down through generations. Tenju Shuzo was founded in 1830, so it has a heritage spanning more than 190 years. The Ohi family has continued to guard the brand, with each president inheriting the name of the founding head, Eikichi Ohi. Two seventh-generation Ohi brothers now fill the CEO role, with Takeshi Ohi as the President and Hitoshi Ohi as the Managing Director. They are dedicated to brewing sakes that make people happy using the finest local produce, and to being a brand that makes Akita Prefecture proud. The partnership between city'super and the Ohi family dates back to 2000, bringing the best Akita sakes to connoisseurs in Hong Kong.
Origin of the Brand — Celebration of Longevity and Nature's Blessings
The meaning behind "Tenju" is direct and straightforward – a wish for longevity. When the brand was first established, it produced sake labels like "Tamanoi" and "Inenohana"; it was only during the early Showa period, in 1926, the brand was unified as "Tenju". The name itself is somewhat related to China as it is taken from the stone carving of the Diamond Sutra on Mount Taishan in Shandong Province, China, which is more than 2,000 years old. It has become the identity of the brand. The brand embodies a wish to brew the best sake that transcends time, and for all those drinking Tenju sake to live a long life. Apart from the "Tenju" label, another famous label by Tenju Shuzo is "Chokaisan", named after the mountain is where the brewery is located and where it gets the high-quality water for brewing its sake.
Location of the Brewery — Good-quality Water, Rice and Environment
It is often said that "good-quality water and rice make good sake". Tenju Shuzo is favourably located in Yashima town, Yurihonjo, Akita Prefecture, now merged with other towns to form Yurihonjo City. If you take the Chokai Sanroku Line, Tenju Shuzo is right near the last stop, Yashima station. Akita Prefecture is not only well known for its high-quality rice farming, but also offers natural, good-quality spring water from Chokaisan, the second highest mountain in Tohoku at altitude 2,236m, for Tenju Shuzo to brew its sake.
Geographical Advantage — Gifts from Nature in a Prefecture Famous for Rice and Dairy Farming
With its impeccable location, the brewery enjoys competitive advantages that are unique to Akita Prefecture. Firstly, Chokaisan is one of Japan's 100 famous mountains. Due to its similarity to Mount Fuji, the Yashima area where the brewery is situated is often referred to as "Dewa Fuji", a reference to the Dewa Mountains next to it, located in the Koyoshi River area, where good-quality rice is harvested. With a large annual temperature range and heavy snowfall that adds to the high-quality subsoil water, the sake rice is cultivated in a favourable environment with low temperatures and allows for long-term fermentation. In addition to rice, Yurihonjo is home to Jersey cattle, producing well-loved fine Jersey milk and related products like ice cream. A trip to the Tenju Shuzo area would therefore include good sake and tasty dairy products.
Guiding Principle — the Pursuit of the Finest Raw Ingredients
Akita Prefecture is known for its rice production, including famous varieties of rice grown for eating. As sake rice is an essential ingredient for sake brewing, Akita Prefecture began to develop rice suitable for sake brewing in 1988. The president of Tenju has long recognised the importance of rice and has made "sake brewing starts with rice growing" a guiding principle, making sure that equal effort is given to brewing sake and growing sake rice. At that time, only a limited quantity of sake rice was produced in Yuzawa city, Akita. Tenju Research Group was founded by then President Ohi in 1983 (Showa 58) to facilitate the farming of sake rice by the brewery and local sake rice farmers. The goal is to achieve self-sufficiency. To this day, the brewery collaborates with 12 local farmers, who supply all the rice the brewery needs. The raw sake rice produced includes Miyama Nishiki, Akita Sake Komachi, and the newly developed Hyakuden and Ichihozumi. Sake rice has become another signature produce of Akita and offers the finest raw ingredient for the sake brewing industry.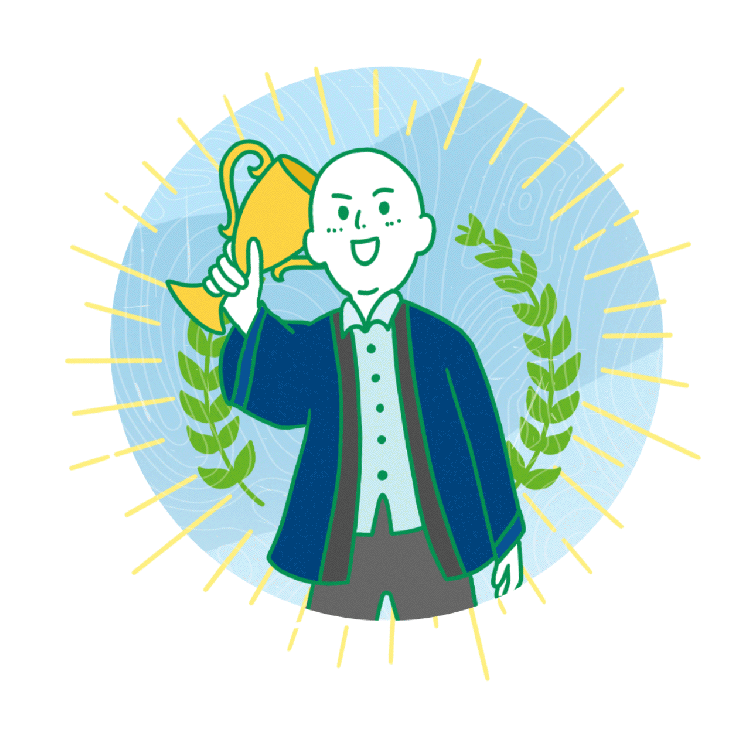 Brewing — Young Toji's Quest for Continuous Improvement
Brewing is a scientific process led by a professional Toji, or master brewer. Even a minor change in one single step of the process can bring about a vastly different result. Tenju Shuzo has been striving for excellence over the years, constantly upgrading its equipment, such as the fixed-quantity automatic measuring machine and dehydrator. Constant inspections are carried out at every step of the brewing process to achieve superior results. Moreover, the team often experiment with different kinds of brewing method to create sake in various styles, like Kimoto and the second fermentation in bottle technique. The role of a Toji is crucial in improving sake quality. For Tenju Shuzo, Toji Mr. Yousuke Ichinoseki is the youngest member of the current Sannai Toji group. The gatekeeper of quality at Tenju Brewery, he also won Chief Toji Recognition by the Governor of Akita Prefecture at the 2020 Akita Prefecture Sake Competition.
Flower Yeast — the Fate that Brought the Brewery and Flowers Together
The yeast used in sake brewing is often a crucial contributor to the sake's aroma. Tenju Shuzo is famous for using flower yeast to brew its sake. The brewery has had its eye on natural flower yeast for a long time and was the first to research sake brewing with flower yeast. The current president Mr. Takeshi Ohi is the first president of the Flower Yeast Research Group at Tokyo University of Agriculture. Dedicated to the promotion of and research into flower yeasts, the group has so far developed more than ten varieties of flower yeast. It also organises tasting sessions and seminars throughout the year. Flower yeasts may sound romantic, but it is a scientific process that harvests yeasts from flowers. Tenju's signature Tenju Chokaisan Junmai Daiginjo is brewed with flower yeast ND-4 from dianthus flowers, making it a perfect example of the special relationship between Tenju Shuzo and flower yeasts.
Taste — A Gentle, Elegant Aroma
The Tenju sakes are mostly made with Miyama Nishiki rice. Sake brewed using this rice is very different from that made with Yamada Nishiki. The former gives a more delicate aroma, unlike the grander aroma of Yamada Nishiki. The various flower yeasts also give different scents, like the refreshing dianthus flower yeast ND-4 and the rich-flavoured Abelia flower yeast AB-2. It is, therefore, important to smell Tenju sake before tasting it. The brewery also produces other sakes with various characteristics, such as Junmai-shu, which features a rich rice flavour; Kimoto sake, which has a pronounced lactic note; and sparkling sake, which is highly refreshing.
Global Recognition — Shining on the World Stage
Tenju Shuzo has long been recognised as an influential sake brand in Akita Prefecture. It is well-loved by local and international connoisseurs and has garnered numerous awards worldwide in recent years. Chokaisan Kimoto Junmai was awarded a silver medal in the UK's International Wine Challenge (IWC) 2020. Chokaisan Junmai Daiginjo was awarded a gold medal in the Kura Master 2020 in France, a silver medal in the US Sake Appraisal 2020, and a grand gold medal in Japan's Fine Sake Awards 2021. Tenju Shuzo was also ranked one of the top 20 breweries in the World Sakagura Ranking 2020. These awards show that good sake knows no frontiers. The affection that the brand received both locally and internationally proves that hard work pays off.
Recommended Pairing – the Best Sake for Food Pairing
One of the missions of Tenju Shuzo is to brew sake that pairs well with food, enabling a complete dining experience for its customers by enhancing the flavours of both.
Tenju Chokaisan Junmai Daiginjo
Chokaisan Junmai Daiginjo features a delicate aroma that pairs well with seafood like oysters and sashimi.
On the Rocks
Chilled
Room Temp
Warm
Hot
Nose

Floral & Fruity
Palate

Refreshing

Soft

Elegant

Mellow

Full-bodied
Aftertaste

Dry

Off-dry

Sweet

Savoury

Complex
Tenju Chokaisan Kimoto Junmai
Chokaisan Kimoto Junmai has a higher acidity level, which is best paired with Wagyu and cheese.
On the Rocks
Chilled
Room Temp
Warm
Hot
Nose

Grain & Cereal
Palate

Refreshing

Soft

Elegant

Mellow

Full-bodied
Aftertaste

Dry

Off-dry

Sweet

Savoury

Complex